Natural Butters like Organic Raw Mango Shea Butter are incredibly moisturizing for hair and can be particularly useful for anyone who has thick, coarse hair or short smooth natural hair.
Organic Raw Mango Butter can be used as a sealant to lock in moisture and prevent your hair from becoming dehydrated. In fact, during the colder months when your hair naturally becomes drier, using Afri-Berry's Organic Raw Mango Shea Butter can restore the hair to a much healthier condition.
As Organic Raw Mango She Butter is packed full of nutrients and antioxidants, it naturally makes hair strands stronger and more manageable.
Here are five of some uncommon uses for Organic Raw Mango Shea Butter that you can start doing now:
1 : Soothe irritated scalp - Organic Raw Mango Shea Butter has been used for centuries to sooth dry, itchy scalp or dandruff on natural hair. It is also a great source to provide moisture for dry or damaged hair. It absorbs easily into the scalp and it does not clog the pores. It provides moisture from the roots on down to the ends. It is therefore extremely beneficial to hair that is relaxed, coloured with dye or heat treated.
How to use it: Melt down Organic Raw Shea Butter in a bowl over boiling water. Once it has cooled to a reasonable temperature, spread onto your fingertips and apply in small amounts direclty onot your scalp. Rub in circular motion. You can add a few drops of our Jamaican Black Castor Oil for an extra soothing sensation.
2 : Sealant for the hair - Natural hair has the tendency to be dryer than any type of hair due to the texture. The natural sebum from the scalp has a hard time sliding down the shaft to the ends because of the bends or coils of natural hair. Organic Raw Mango Shea Butter is frequently found in the curly hair treatments because of its emolliating qualities. It provides moisture for the hair and then seals in moisture to the hair without leaving it greasy. This sealing quality ensures that your hair stays moisturized during harsh weather.
How to use it: Apply a small quantity to your hair after washing your hair with our two in one Black Soap Shampoo and Conditioner.
3 : Protect hair and scalp againts UVS - When your hair follicles are exposed to the sun too often, it gets damaged and produces dry damaged hair. Organic Raw Shea Butter by Afri-Berry contains a small amount of SPF which serves as a protective barrier against the ultraviolet rays of the sun.
How to use it: Before going out to where your hair would be exposed to the sun, melt a small quantity of Organic Raw Mango Shea Butter, and apply lightly to the hair. You can also add it to our Organic Coconut Oil for long lasting glow and shine.
4 : Prevent hair loss and promote hair growth - The anti-inflammatory qualities and fatty acids contained in Organic Raw Mango Shea Buttersupply essential nutrients that help to treat scalp conditions and improve the overall health of the scalp. This will, in turn strenghten the hair follicles, reduce hair loss amnd make your hair grow thicker.
How to use it: Mix Organic Raw Mango Shea Butter with our Organic Coconut Oil. Apply to the hair and edges and massage into the scalp often. You can do this before styling your hair in the morning or defore bedtime.
5 : Moisturize and soften hair - Organic Raw Mango Shea Butter contains vitamin A and E with essential fatty acids which are believed to add moisture and shine to the hair. Its non-greasy quality makes it an excellemt moisturizer for the hair. It softens dry brittle hair and repairs split damaged ends as well.
How to use it: Mix Organic Raw Mango Shea Butter with Jamaican Black Castor Oil and apply as the oil for the LOC Method or apply as a leave-in moisturizer after every wash day.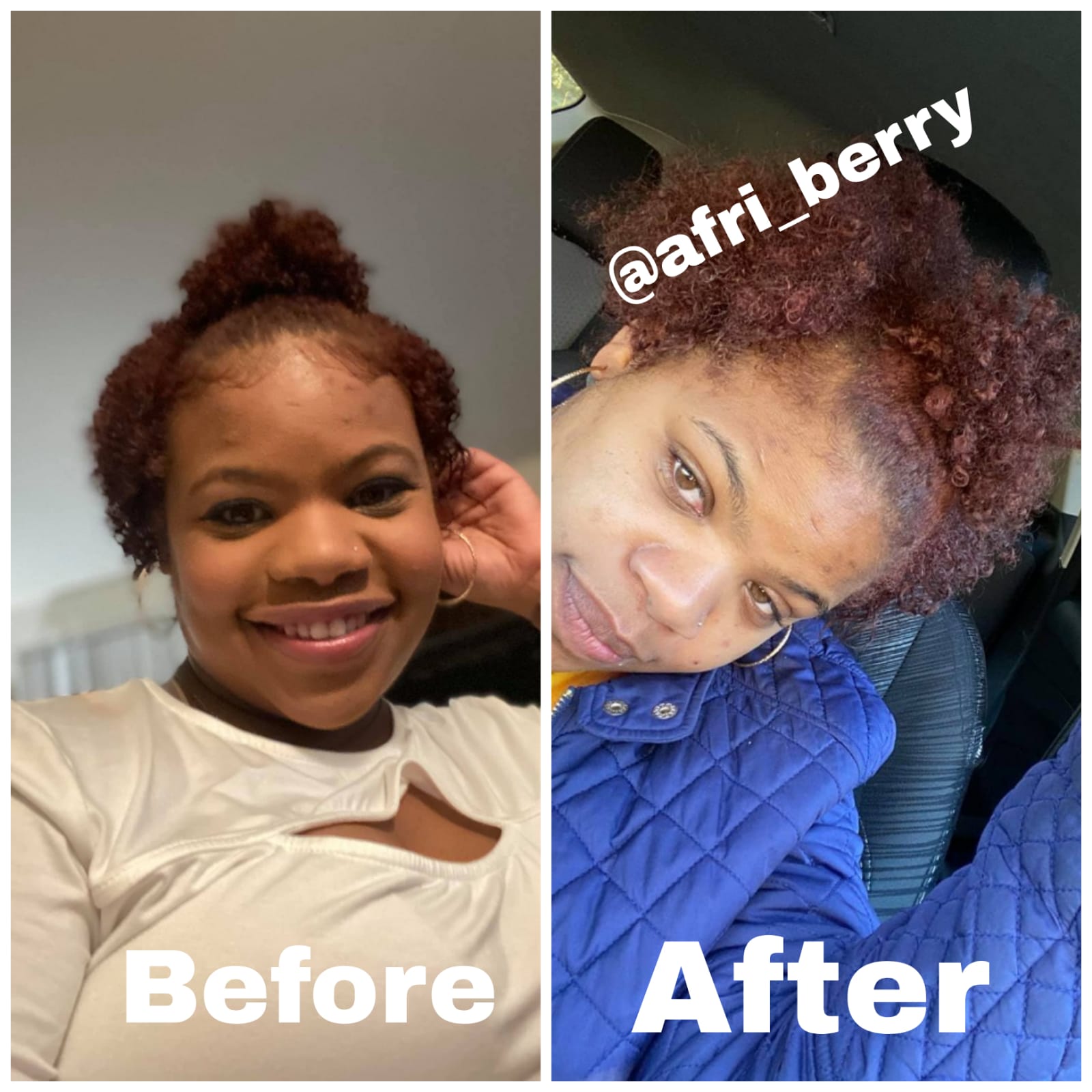 Available to shop now on our Afri-Berry online store!

Organic Raw Mango Shea Butter is available at major retail stores such as Clicks, Pick n Pay and Checkers stores.
Visit Cosmetic Connection, Faithful To Nature and Zando to shop Afri-Berry online.
Powered By Nature. Proven By Results.