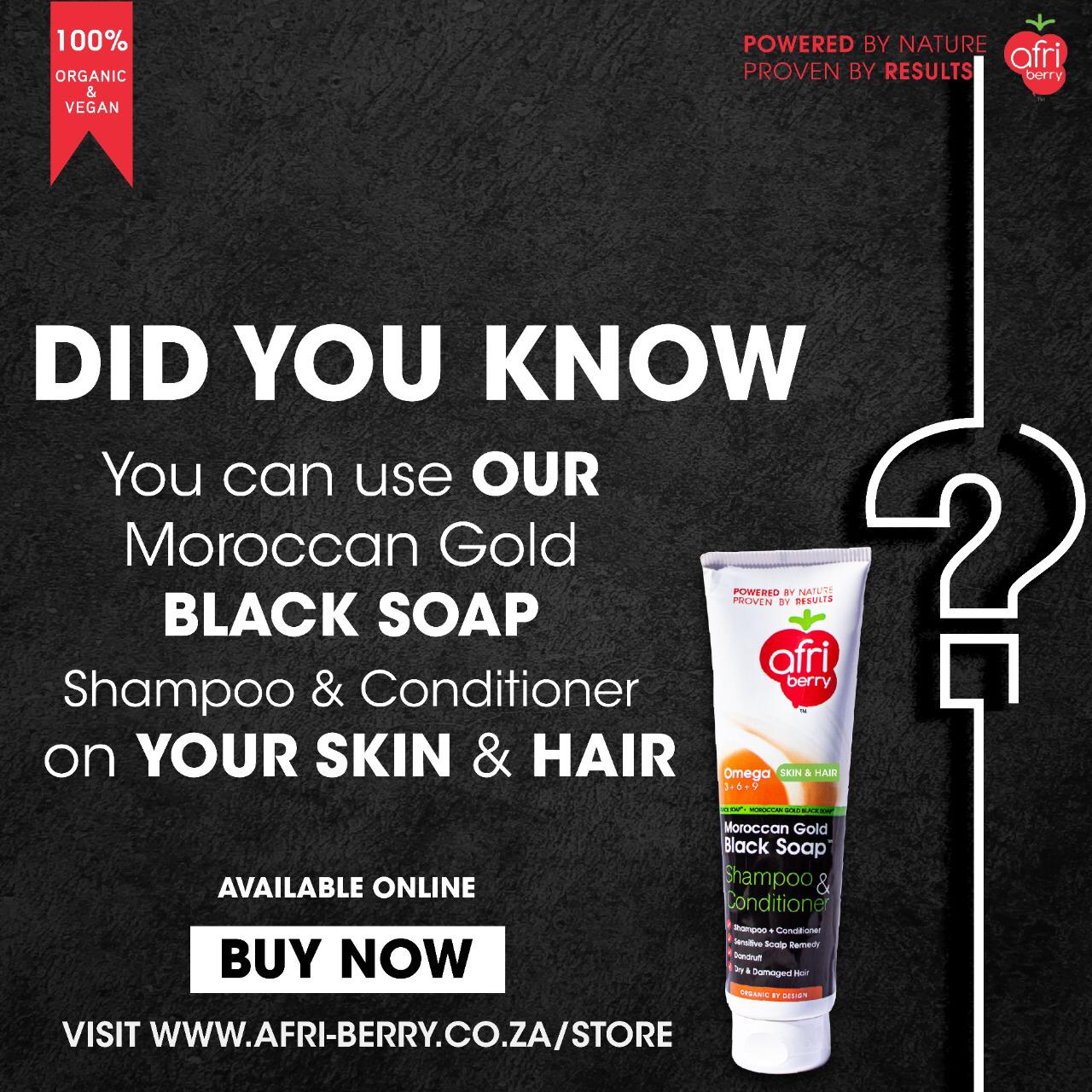 Afri-Berry's new and improved formula is leading the way in the retail market and leaving customers excited because the Two in One Moroccan Gold Black Soap Shampoo and Conditioner can be used for all hair and skin types which it is a FACT!
It is very unlikely to walk in store shopping aisle or brows on online stores and find a life changing two in one shampoo and conditioner that is natural, pure and organic and serves purposes of growing healthy hair and witnessing glowing skin. Moroccan Gold Black Soap Shampoo and Conditioner is the natural solution to all your hair and skin matters. This two in one Black Soap Shampoo and Conditioner is suitable to be used on your hair and on your skin which is the best part for all natural, vegan and organic products.Read along to find out the benefits and how to use for your hair and skin.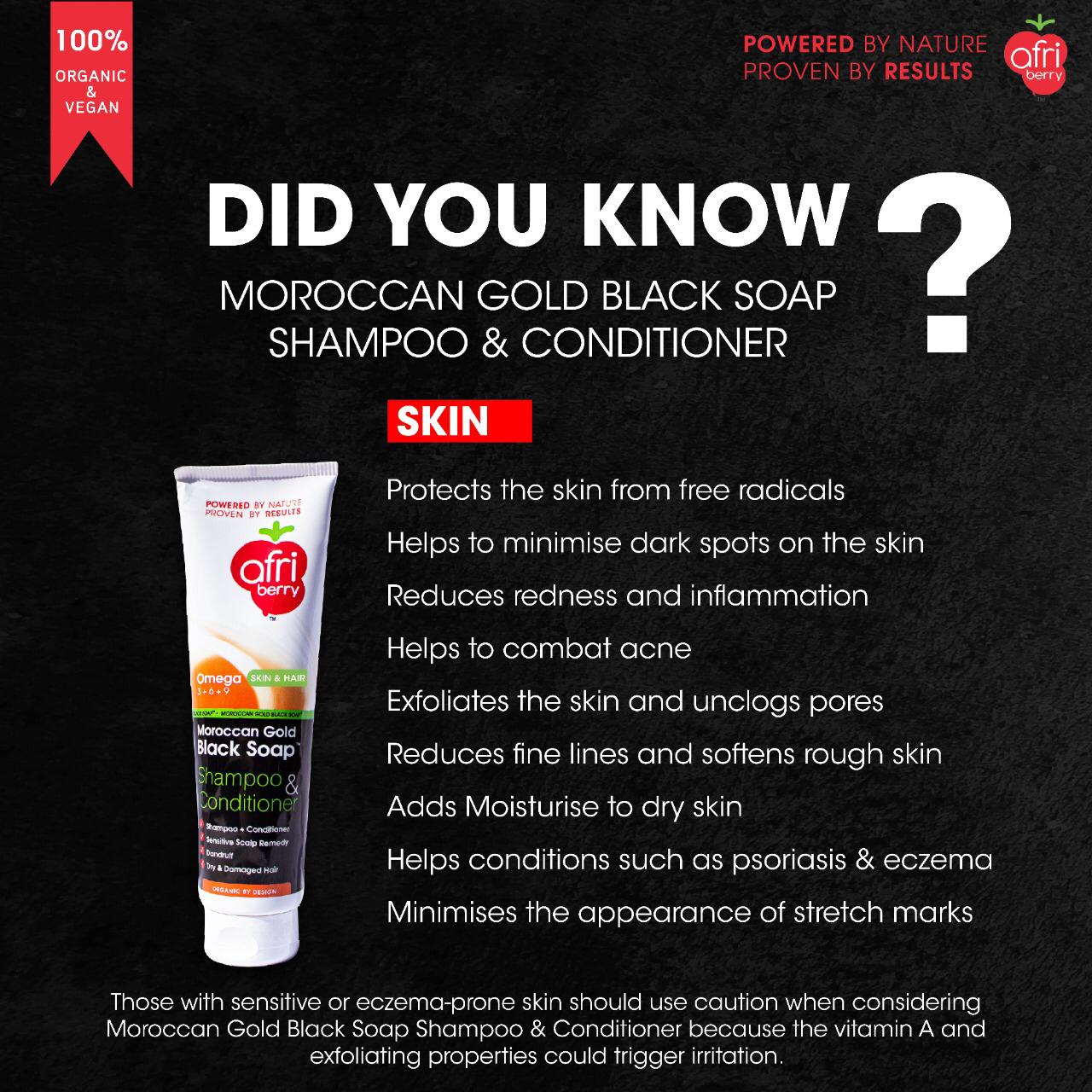 For skin: This is a solution to breakouts, stretch marks, acne, eczema and everything in between, black soap is the ultimate beauty purchase for all those on a budget.
Exfoliating will help remove dead skin cells before they can clog your skin follicles. The moisture in Moroccan Gold Black Soap Shampoo and Conditioner may also help prevent the lumps and bumps that result from razor burn and inflammation. Suitable for all ages and contains Vitamin A, C, and E. Enriched with Omega 3, 6, 9 – which helps and improves skin Eczema, helps with hair loss of water in skin, contains fatty acids essential to the functioning of the human body.
1. It's antibacterial.
2. It's safe for all skin types.
3. It's moisturizing to dry skin.
4. It won't make your skin oily.
5. It helps soothe irritation.
6. It's anti-inflammatory.
7. It helps fight acne.
8. It helps protect against aging.
9. It helps improve skin texture.
10. It helps conditions such as psoriasis and eczema.
11. Minimizes the appearance of stretch marks and dark spots on the skin.
Those with sensitive or eczema-prone skin should use with caution when considering Moroccan Gold Black Soap Shampoo and Conditioner because the Vitamin A and exfoliating properties could trigger irritation.
For hair: Moroccan Gold Black Soap Shampoo and Conditioner is a two in one product which is an all natural vitamin E and A infused liquid soap, free from sulphates and parabens. It will stimulate your hair's natural cell renewal cycle.
The benefits of the Moroccan Gold Black Soap is the two in one feature as it acts as a Conditioner and Shampoo that it fights itchy scalp, dandruff and hair growth.
The added benefits for this wonderful natural product is that it is suitable for all ages and all hair types and all genders. Moroccan Gold Black Soap Shampoo and Conditioner creates lightweight body and volume for fine hair, adding flexible control, amplifying shine and locking in moisture.
Added with Omega 3+6+9 which the product is 100% Organic and 100% Vegan.
Directions:
Wash your hair in morning and evening weekly and apply the product on your hair – as it is a shampoo and conditioner in one. The light foam that will provide lush, volume and fullness. The light formula also contains conditioning ingredients to amplify shine and lock in moisture leaving hair manageable, soft and shiny.
Features:
• Adds flexible control, amplifies shine and locks in moisture.
• Detangle and equalizes porosity.
• Conditioning formula provides extra body, fullness and control.
• Makes hair grow faster, longer and healthier.
• Nourishes the hair follicles.
• Softens and moisturizes the hair.
• Makes the hair more defined and bouncy.
• Reduces hair loss, frizz and hair falling.
How to use:
Dispense upside down. Dampen your hair and then blend the product into your hair as it will form a foam slightly, which is normal. You can also apply it into your scalp and leave it to work for a few minutes before thoroughly rinsing. After massaging, rinse it off carefully. Distribute evenly throughout hair. Style as desired.
If you have dry or damaged scalp the Moroccan Gold Black Soap Shampoo and Conditioner is perfect for you. It is rich in reparative Vitamin E. It deeply nourishes the hair fibre and can soothe an irritated scalp. It helps relieve itching due to its soothing properties and it gently exfoliates to help remove dandruff. It gently washes all hair types and provides up to 150 washes including children's hair as it is rich in iron, Vitamin A and E it strengthens damaged hair for more beautiful looks.
Beauty Tip when using our Moroccan Gold Black Soap Shampoo and Conditioner for your hair or skin to see beautiful results just know that a little goes a long way!

Available to shop now on our Afri-Berry online store!

Moroccan Gold Black Soap Shampoo and Conditioner is available at major retail stores such as Clicks, Pick n Pay and Checkers stores.
Visit Cosmetic Connection and Zando to shop Afri-Berry online.
Powered By Nature. Proven By Results.