There are plenty of things to avoid during the winter – the cold outdoors being at the top of our list. Exfoliation, however is not one of them. Winter is one of the best times for exfoliation. Keep reading to find out why and how to exfoliate in winter using Moroccan Gold Argan Oil as a body scrub.
The Benefits of Exfoliating During the winter season: In the winter the skin tends to be more dry than it is during the summer because of cold weather and low humidity.
By using Moroccan Gold Argan Oil, Coffee Beans and Vanilla Extract from your kitchen you can remove patches of dull, dry skin to reveal softer, smoother looking skin. Doing so can help your skin be well moisturized resulting in a more hydrated complexion.
Exfoliating not only helps reveal brighter skin, but also decongests pores to keep new breakouts from forming. Using this homemade body scrub will give your skin a radiant, more glowing healthy look after the rinse leaving your skin smooth and less irritated. By using Moroccan Gold Argan Oil it will brighten and help with the reduction of dark spots.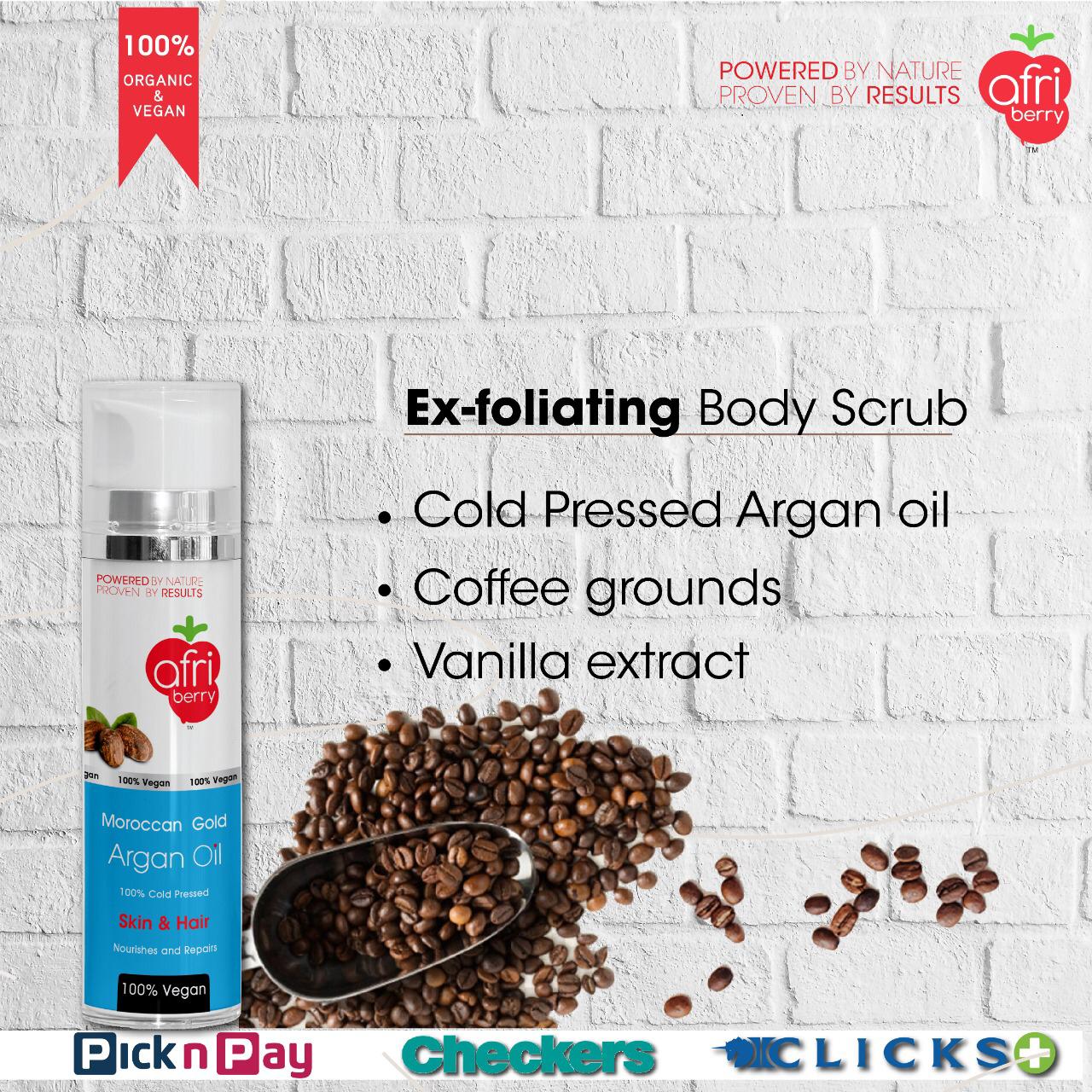 What You Need For The Exfoliating Body Scrub:
-Moroccan Gold Argan Oil
-Coffee Beans
-Vanilla Extract
How to Exfoliate:
Grab a small bowl, use the coffee in your kitchen, vanilla extract in your kitchen and our Moroccan Gold Argan Oil. Mix all three in one bowl. Use one teaspoon of Vanilla Extract, three spoons of Coffee and a two spoons of Moroccan Gold Argan Oil. Apply it on your face by scrubbing with your finger tips in circular motions for 10 minutes you can also focus on areas that are dry such as your knees, heels and elbows and wash gently with warm water. Pat and dry your face and body with a clean towel. Apply Afri-Berry Moroccan Gold Argan Oil onto your body and face to witness that extra glow.
This routine should be done once a week to see amazing results.
Visit Pick n Pay, Checkers and Clicks nationwide to purchase our range in stores near you.
Shop our range at these online stores: Faithful to Nature, Cosmetic Connection and Zando.
See our Afri-Berry online store to purchase our amazing repair hair, body and skin products.